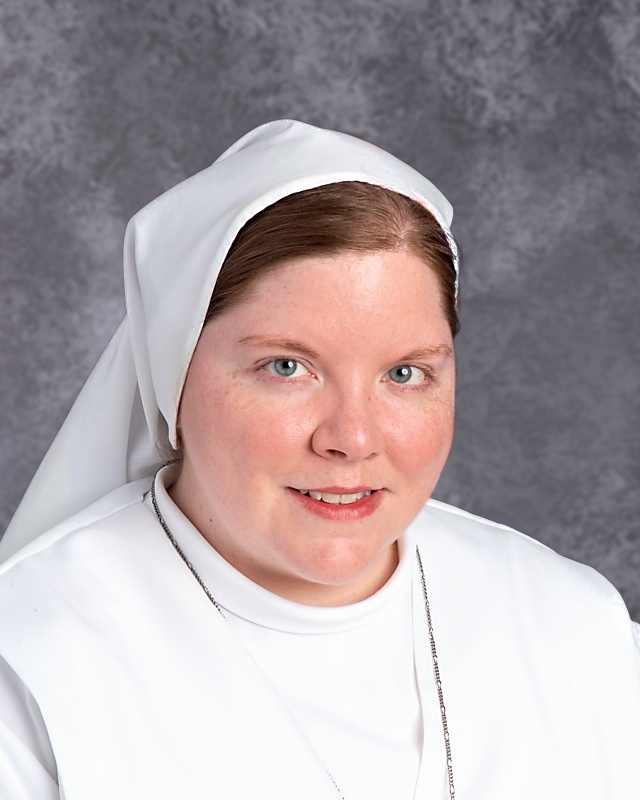 Welcome to Mary Help of Christians Academy! My name is Sister Brittany ("Sister B," as the girls call me), and I am the Campus Minister and Theology Department Chair. Mary Help's Theology department is a dynamic part of our school's strong Catholic identity. Our students have monthly opportunities for confession with Eucharistic Adoration during the school day, all-school Masses, nights of Adoration and fellowship called "XLT," the opportunity for yearly class retreats and seasonal prayer services, as well as the chance to participate in campus-wide service initiatives. We also participate in Pro-Life initiatives during the month of January, and students may choose to attend the March for Life in Washington DC. For those students who are interested in deepening their spiritual lives, there is a Campus Ministry club that meets weekly for Eucharistic Adoration, support, and discussion of a selected spiritual book. This club is called the "L.I.G.H.T. Club" (Living in God, Holiness Together) and aims to use the two Salesian pillars of devotion to Mary and love of the Eucharist to help its members to grow in holiness.

The aim of Campus Ministry & Theology at Mary Help is to accompany each student to develop her sense of spirituality and religious faith, while respecting her unique journey and rhythm of growth. Our students are taught to be respectful of and to understand Catholic religious practices, but no student is ever forced to fully take part in something she is not spiritually prepared to embrace. If a student is not comfortable with something, she is asked to be a respectful presence. At Mary Help, we know that our students come from a wide variety of backgrounds, so we get to know them as individuals and foster within them the relationship with God they are ready to express. As Campus Minister, I am available as a resource for each student as she struggles with questions of faith, morality, vocation, and meaning. Together with our faculty, staff, and students, the Campus Ministry department forms the heart of Mary Help and gives life to the family spirit and joy found on campus.

As a Salesian school, we also believe that God has placed particular gifts within each young person meant to enrich the world and our school community. One of the opportunities available to Juniors through Campus Ministry is the chance to attend "Salesian Leadership Retreats" in October and March, which allow them to join participants from eight other Salesian schools as they explore and develop their leadership skills and spirituality. The participants of these retreats form friendships that last a lifetime. Select Seniors, as well, are able to form the Peer Ministry Internship class and be the ones who directly plan and lead campus retreats, prayer services, and community outreach initiatives. They also craft a yearly retreat for the faculty and staff as a gift from the students to their educators. Underclassmen have the chance to help animate the Masses and participate in leading spiritual experiences for their peers, as they are comfortable.

I invite you to visit us and to learn more about our programs and the opportunities available to our students as they become leaders of today and tomorrow, not just academically, but morally and spiritually.

Campus Minister
Theology Department Chair